MOVIES
---
I LOVE MOVIES!
(and thanks to Columbia House Video Club I have a large collection of them)

(just some of em...)
AND NOW FOR YOUR ENJOYMENT... THE TOP TEN MOVIES OF ALL TIME...
(click on red text for images)
---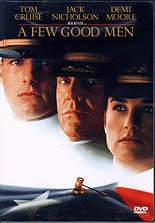 A FEW GOOD MEN IS AN EPIC MOVIE OF LEGENDARY
PROPORTIONS THAT ALL OTHERS FILMS EMMULATE
BUT FALL FAR SHORT OF. THE FILM FEATURES
TOM CRUISE SEEKING THE TRUTH IN THE DEFENSE
OF TWO MARINES ACCUSED OF MURDER. JACK
NICHOLSON SHINES AS COL. NATHAN JESSUP.
***THE BEST MOVIE OF ALL TIME***
---

BRUCE WILLIS SETS
THE STANDARD
FOR ADRENALINE
FILLED, NON-STOP ACTION FILMS IN THE DIE HARD TRILOGY. UNDER
DIRECTION OF JOHN McTIERNAN AND RENNY HARLIN, "LT. JOHN McCLANE"
BATTLES TERRORISTS AGAINST THE ODDS. "YIPPEE KAI YEAH MOTHER..."
---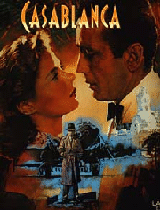 BLACK AND WHITE - SO WHAT? IF YOU HAVEN'T
SEEN CASABLANCA YOU ARE MISSING A PHENOMONAL
FILM OF LOVE AND ACTION. THE PLOT IS
EXCITING, THE ACTING LEGENDARY, AND THE
DIRECTION IS EXCELLENT. EVERY SCENE IS
MEMORABLE AND BEAUTIFUL. THE STARS ARE
INGRID BERGMAN AND HUMPHREY BOGART. BOGEY
PLAYS A SLICK CAFE OWNER IN THE TOWN OF CASABLANCA NAMED RICK.
---

THREE HOURS
OF FIERCE
ACTION AND
BEAUTIFUL CINEMPHOTAGRAPHY MARK THE FILM BRAVEHEART WORTHY
OF IT'S OSCAR. MEL GIBSON STARS AS WILLIAM WALLACE, WHOSE
DRAMATIC ACTIONS AND SPEECHES RALLY THE PEOPLE OF SCOTLAND TO
FIGHT FOR THEIR FREEEEEEEDOOOOMMMMM!
---
BACK TO THE FUTURE IS THE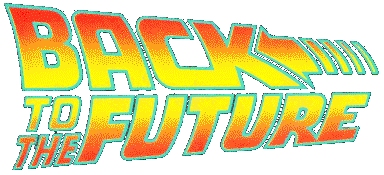 QUINTESSENTIAL 80'S
FILM. IT IS AS MUCH
A PART OF MY
CHILDHOOD AS
KINDERGARTEN.
ROBERT ZEMECKIS'S
FILM IS A TRUE ADVENTURE, WHICH SPARKS THE IMAGINATION OF ALL
WHO WATCH DOC BROWN CREATE A TIME MACHINE FROM A DELOREAN THAT
SENDS MARTY McFLY BACK TO 1955.
---

THE CLASSIC
COMEDY
ADORED
BY ALL PEOPLE UNDER 20 YEARS OF AGE. A CREATIVE STORY ABOUT
MATTHEW BRODERICK TAKING HIS FRIENDS OUT FOR A DAY ON THE TOWN,
REMEMBERING THAT "LIFE MOVES PRETTY FAST, YOU DON'T STOP AND
LOOK AROUND... YOU COULD MISS IT."
---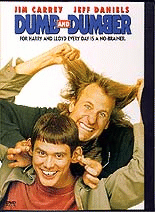 THE FINEST COMEDIES IN THE HISTORY OF AMERICAN
CINEMA, DUMB AND DUMBER, AND WEEKEND AT
BERNIE'S.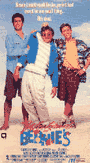 CLASSIC BUDDY FILMS - THESE
TWO MOVIES CREATE IDOLS FOR BOTH
MYSELF AND BUDDY CHRIS TO
EMMULATE. THE VAN AND TUX'S IN D+D
INSPIRED OUR CROSS COUNTRY TRIP IN
FACT. AND BERNIE'S IS ROUTINELY QUOTED FROM ROGHLY
50-60 TIMES A DAY.
---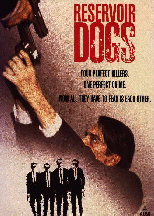 QUENTIN TARANTINO'S FIRST BIG MOVIE IS EXCITING,
SUSPENSEFUL, AND LURES THE VIEWER INTO IT'S
VIOLENT TALE OF FOUR PERFECT KILLERS IN A HIEST
GONE WRONG. THE MOVIE'S ACTION AND CHARACTER'S
STAY WITH YOU LONG AFTER THE FILM, AS SCENES
OF "THE DOGS," MR. BLOND, MR. WHITE, AND
CONFLICTS ARE BURNED INTO THE MIND BY
TARANTINO'S SINGULAR STYLE.
---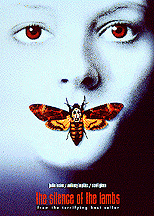 THE SUSPENSE OF SILENCE OF THE LAMB'S
INTRICATE PLOT IS INCREDIBLE, AS FBI AGENT
CLARICE STARLING HUNTS A SERIAL KILLER WITH
THE HELP OF THE INFAMOUS HANNIBLE LECTER.
SILENCE EARNS IT'S OSCAR SWEEP WITH FANTASTIC
RISING ACTION, PSYCHOANALYSIS IN EVERY SCENE,
AND ACTING SO PRECISE IT CAN HAUNT THE VIEWER.
---
VERY HONORABLE MENTIONS TO...
TOM CLANCY TRILOGY (HUNT FOR RED OCTOBER...)
MANHUNTER
THE USUAL SUSPECTS
SEVEN
PLATOON